By Josh Karliner, International Team Coordinator, Health Care Without Harm
Will dengue fever mosquitos touch down someday soon in Chicago?
Will the Anopheles family, better known as the Malaria Mob, buzz the rooftops of Miami in the not too distant future?
Sound over the top? Maybe not.
As the earth warms, insects, such as mosquitos and tics carrying vector-borne diseases like Dengue, Malaria and Lyme disease are already on the march.
This trend is giving new meaning to the term "travel bug."
Recently, experts in the UK have warned the government there to take action to prevent the climate change induced spread of mosquito-borne diseases, "before it is too late." If they're worried about malaria in cool, rainy England, you know we've got a problem.
Dengue cases in Mexico have already increased by 600 percent between 2001 and 2007. Dengue mosquitos have also moved south into Buenos Aires, Argentina and north into Florida, where they had not previously been seen since the 1930s. Overall scientists conservatively estimate that with a changing climate the number of cases of this disease will grow from about 50 million a year to at least 160 million by 2050.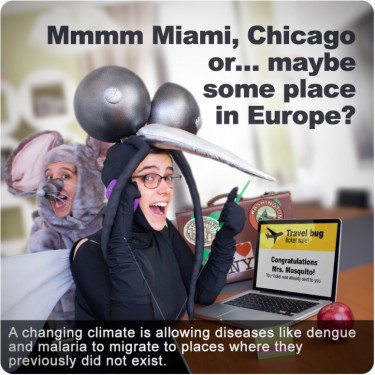 Disease vector encroachment — the migration and expansion of dengue, malaria, hantavirus — is just one of the myriad threats to health associated with climate change. Other impacts include health effects of severe storms, droughts, heat waves, the movement of climate refugees and more.
In fact, climate change's health impacts are anticipated to be so great that the highly respected English medical journal, The Lancet, has called climate change, "the biggest global health threat of the 21st Century."
Climate change is still mostly seen first and foremost as an environmental issue. But it's also a major public health concern. And it's time for all of us, especially health care providers, to wake up to this fact and do something about it.
Health care itself has a powerful role to play in addressing climate change. Health professionals are on the front lines dealing with the impacts of climate change, while part of the Hippocratic Oath of, "First Do No Harm," is standing up and speaking out to help prevent the problem in the first place. Growing numbers of doctors and nurses from around the world are doing just that: advocating for a clean and healthy energy path that reduces greenhouse gas emissions.
Ironically, hospitals are large contributors to the problem: They use tremendous amounts of energy and resources often derived from fossil fuels. These massive institutions need to lead by example and become beacons for others by reducing their own climate footprint.
In sum, health care needs to add its moral, political and economic clout to the climate debate the same way it did with cigarettes a generation ago.
When the health sector banded together to banish cigarettes from hospital campuses and health professionals spoke out about the health consequences of smoking, it spurred a worldwide movement away from tobacco.
It's time now to take on climate change. One vehicle for action is Health Care Without Harm, a global non-profit group that harnesses the power of doctors, nurses, hospitals and the millions of others in the health sector as a force for human and environmental health.
Over the next two months, Health Care Without Harm will be blogging each week about the unique role health care can, and already is playing as a vector for climate solutions.
As part of our participation in The Huffington Post, CrowdRise Fundraising Challenge, we will highlight a number of aggressive approaches to protect public health from climate change, including:
Training an army of nurses and doctors to speak out for policies that promote a healthy climate.
Working with thousands of hospitals in dozens of countries to help them reduce their own carbon footprint through energy efficiency, solar, wind and other solutions.
Pressuring politicians at the local, national and global levels to protect public health by reducing greenhouse gas emissions.
Just as with smoking, we know that climate change is hazardous to human health. Industry protestations to the contrary, the science is clear. To protect public health we must reverse the march of the travel bugs and proliferate vectors for climate solutions.
Follow Health Care Without Harm on Twitter:www.twitter.com/HCWithoutHarm